"If you can dream it, you can do it"
-Walt Disney
Staff
Miss A Bagnall (Head of Department)
Mr R Murphy
Business Studies provides a unique insight into the world of work. It explores the key elements and essential functions of business. It also examines how businesses operate. It investigates elements such as marketing, e-business, planning, entrepreneurship, sustainability and risk management.
Business Studies is offered at GCSE and AS/A2 Level. It offers an excellent foundation for students wanting to pursue careers in management, marketing, project management, business accounting, management consultancy, human resources and business journalism as well as those interested in continuing on to further study.

Extra-Curricular

⦁ Young Enterprise NI
⦁ St George's 'Big Christmas Market' event
⦁ The Company Programme
⦁ Quick Start Programme
⦁ Annual schools trips e.g. Coca Cola
⦁ Achievements such as Business Studies Ambassadors
⦁ Tenner Challenge
⦁ After school revision classes
A-Level

Examination board: CCEA
About GCE Business Studies
The CCEA GCE Business Studies specification provides insight into how organisations meet stakeholders' needs. Students explore businesses' decision-making and risk-taking processes. They develop awareness of organisations' ethical dilemmas and responsibilities.
Students also develop transferable skills that help them to access further education courses or become valued employees. This course offers a foundation for careers in marketing, finance, accountancy, human resources or self-employment.

Assessment
GCE Business Studies has four assessed units: two at AS Level and two at A2 Level:

⦁ Unit AS 1: Introduction to Business
⦁ Unit AS 2: Growing the Business
⦁ Unit A2 1: Strategic Decision Making
⦁ Unit A2 2: The Competitive Business Environment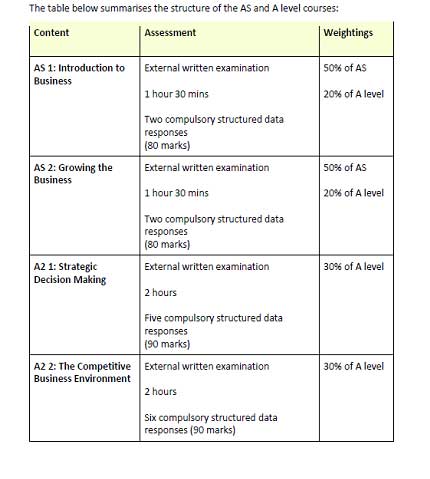 In the AS units, students explore business structures and the importance of recruiting and training a quality labour force. They investigate the role of financial information in business decision making. Students develop an understanding of the importance of quality and gain an appreciation of growing a business through marketing activities and e-business.
Students who continue to A2 gain insight into business planning, and how globalisation and sustainability issues affect business activities. Students will explore the role of accounting and financial information in making strategic business decisions. They gain an understanding of the macroeconomic and global framework that organisations operate within and gain an appreciation of how ethics and sustainability affect business decision-making and organisational culture.

For more information, click here to access the CCEA specification, past papers and mark schemes: https://ccea.org.uk/post-16/gce/subjects/gce-business-studies-2016
GCSE
Examination board: CCEA
About GCSE Business Studies
The CCEA GCSE Business Studies specification encourages students to investigate how businesses start up. They explore the resources, marketing and finance that businesses need and the challenges they face.

They also examine how businesses grow and the role of stakeholders: groups that have an interest in a business. They understand the role of human resources, the recruitment and selection process, and the value of employee training and motivation. They also learn to apply skills such as decision making, proposing business strategies or solutions, understanding other viewpoints and justifying decisions.

Assessment
GCSE Business Studies is assessed through three units. Two written exams (one in Year 11 and one in Year 12) each worth 40% of the final mark, and a controlled assessment unit worth 20%.
⦁ Unit 1: Starting a Business
⦁ Unit 2: Developing a Business
⦁ Unit 3: Planning a Business.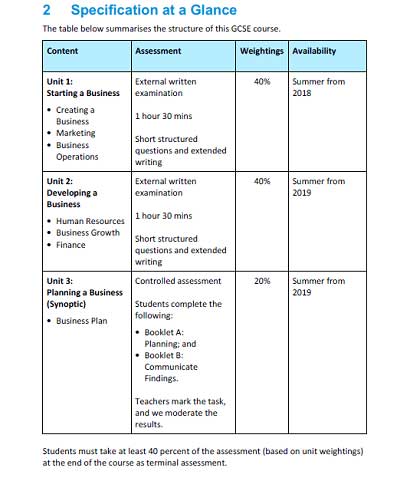 For more information, click here to access the CCEA specification, past papers and mark schemes: https://ccea.org.uk/key-stage-4/gcse/subjects/gcse-business-studies-2017
Results
GCSE Business Studies
2020: A*- C = 100%
2019: A* - C = 89%
2018: A* - C = 88%
A2 Business Studies
2020: A* - C = 100%
2019: A* - C = 100%
2018: A* - C = 100%
Young Enterprise
At Assumption we offer Young Enterprise Programmes and workshops which support careers education, provide meaningful employer encounters and help young people develop the skills they need for the future. This provides young people the skills and mind-set to make the most of everyday opportunities and challenges.
Company Programme for A-Level students
Company Programme empowers young people to set up and run a student company under the guidance of a business volunteer. Students make all the decisions about their business, from deciding on the company name, managing the company finances and selling to the public. Participants gain practical business experience and key skills.

Young Enterprise Big Market for KS3 students
Year 8 pupils get the chance to develop their enterprise skills and gain an insight into what it's like to run a business. Come Christmas, they normally pack out St George's Market in the Big Market product launch event.