---
Fully Alive in the Curriculum
Through the planning and implementation of the curriculum, each pupil is encouraged to reach her potential and nurture her own particular talents and abilities. The school's consistently excellent academic results reflect the high standards of teaching and learning in Assumption. Teaching is organised through academic areas managed by Curriculum Leaders. Schemes of work, which comply with current statutory regulations, are also designed to ensure a breadth and depth of knowledge, a zest for learning and the development of skills and values necessary for life.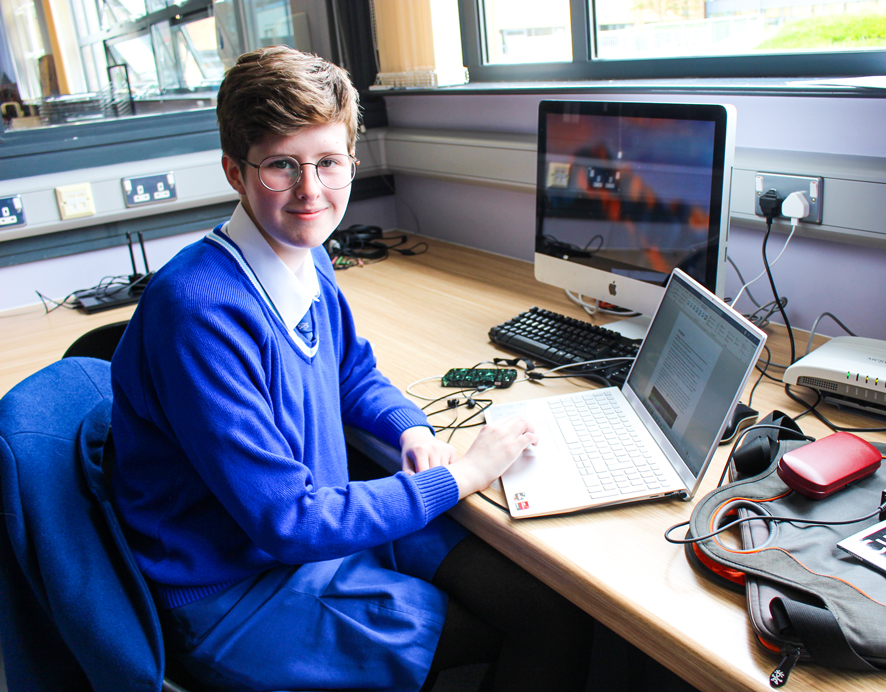 There is a culture of self-evaluation within all departments, which ensures that they remain open to changes in education and responsive to the individual needs of pupils. Additionally, we have a Psychology for Learning Centre, offering one-to-one and tutorial support for identified pupils.
Our school building and facilities allow both curricular and extra-curricular learning to take place in a twenty-first century environment where students benefit from excellent facilities and emerging technologies. The school holds Specialist Status in Music with PE. The core aim of our school is "To develop the whole person through a Christian Education" and as a specialist school we have been able to foster our ethos, maintain our exceptional academic standards and share our excellence all areas.
The core aim of our school is "To develop the whole person through a Christian Education" and as a specialist school in Music with PE we have been able to foster our "Fully Alive" ethos, maintain our exceptional academic standards and share our excellence in all areas.
Transition from Primary School
We aim to make the transition from Primary School as smooth as possible by familiarising the pupils with the school and their classes in June. Induction Day involves the girls meeting their Form Teachers and prefects who play a vital role in ensuring the girls settle in quickly. There is an effective Pastoral System, which supports the pupils in their first few months, helping them cope with the many new experiences including bus routes and dining in the Windmill Restaurant. Year 8 pupils adapt quickly to the new environment, enjoying the challenge of a variety of subjects and teachers.
---
At this stage, we aim to foster an early interest in a wide range of subjects and begin the process of preparing the girls for the challenges of a modern world. All pupils are given an introduction to Computing and the school Virtual Learning Environment. The creative and expressive areas of Music, Drama, Art and PE form a significant part of the curriculum. The pastoral dimension includes Relationships and Sexuality Education, Education for Employability and Local and Global Citizenship. In Year 8 we offer 3 modern languages from which pupils choose 2 to follow in Year 9 and 10. The cross-curricular skills of Communication, Using Mathematics and Using ICT are developed across the curriculum. Schemes of work clearly signpost opportunities for their development, along with thinking skills and personal capabilities. Our curriculum is designed to develop each of our pupils as:
• individuals
• contributors to society
• contributors to the economy and the environment.
Each Area of Learning (AoL) will develop the necessary skills and capabilities, which allow the 3 main curricular objectives to be met.
Peripatetic teachers tutor pupils in a wide range of instruments, including brass, woodwind, strings and percussion. Lessons in voice training are also available.
At the end of Key Stage 3 pupils are awarded a certificate based on their attainment in their summative examinations in June.
---
In their final year of Key Stage 3, pupils choose an individual package of subjects, which enables them to develop their particular strengths, and opens to them a wide range of career options. We offer a broad and balanced curriculum, which meets the requirements of the Entitlement Framework (24 GCSE subjects) and allows pupils to reach their full potential. Pupils study the following GCSE core subjects: English Language and Literature, Religious Studies, Mathematics, at least ONE Modern Language and at least ONE Science. Pupils then select a further 4 subjects from the Options list. An increasing number of Key Stage 4 pupils are taking 11 or 12 GCSEs by availing of Fast Track classes in Music, Statistics and Performing Arts. We also offer Music GCSE to local post primary schools. All pupils follow non-examination courses through the pastoral Form Period in Relationships and Sexuality Education, Citizenship and Education for Employability. All pupils follow a non-examination course in Physical Education.
Girls enter Sixth Form after successful completion of GCSE. An extensive range of 31 subjects (including both general and applied) is available and pupils choose 3 or 4 of these to AS and A2 level. The Sixth Form curriculum is designed to give pupils maximum academic opportunities in subject choice and careers options, complying fully with the Entitlement Framework (27 A Level subjects).
While there is a strong emphasis on the academic side of the pupil's life, we also aim to develop the skills and personal competencies necessary for the vocational/applied dimension. Over and above these, we look for the emergence of a mature, well-balanced and happy individual. Pupils are encouraged to maintain breadth of interests through the curriculum Enrichment Programme that we provide. This offers a range of courses including: Survival Cookery; First Aid; Leadership Training (ASPIRE); Certificate of Personal Effectiveness (COPE); Young Enterprise; GCSE Further Maths; Volunteering; Primary and Special School Community Links; Mandarin and Yoga. All Year 13 and 14 pupils follow two compulsory periods of Religious Education and Careers. Pupils are prepared for entry into universities and colleges of Further Education.
Over 90% of our leavers proceed to higher education. A number of Sixth Form pupils are accepted for Oxbridge Universities. The school has an excellent academic record of pupil success in examinations and in additional competitions. In addition to GCSE and A Levels, pupils are prepared for various other external qualifications such as Associated Board Examinations of the Royal Schools of Music and accredited courses in Personal Effectiveness.
---