---

""Never give up on what you really want to do. The person with big dreams is more powerful than one with all the facts."
― Albert Einstein,
Staff
Biology:
Dr P. Magill (Co-ordinator of Science, Head of Biology)
Dr B. Henry
Mrs S. McVeigh
Chemistry:
Dr T. Cunningham (Head of Chemistry)
Mr G. Fitzsimons
Mrs C. Thomson
Mr D. Allen
Physics:
Mrs M. Morrow (Head of Physics)
Mr. P. Murphy
FACILITIES: The Science Department consists of eight fully equipped laboratories, located over the ground and first floor of the north-westerly wing of the main school building. There are also three preparation rooms, which are over seen by two technicians.
BACKGROUND/GENERAL INFORMATION: The Science Department is a vibrant and enjoyable place to learn. As a subject, Science can be fun to study and will provide many challenges for students as they progress through the key stages. This is of great importance if we are to encourage our pupils to realize their full potential and push themselves to achieve their very best.
It is crucial to have a balance between the fun and the more challenging aspects in Science and this theme runs through the Key Stage 3 course. We have extensive resources and support staff to call upon in order to ensure that the lessons are interactive and thought-provoking, encouraging the students to develop the desire to want to know more about Science and the world around them. In the junior school there are six periods of General Science per week in Year 8 and four per week in Year 9. Year 10 consists of one double class per week, of Biology, Chemistry and Physics. In order to gauge the level of understanding throughout the course, the pupils are given practical tasks in the laboratory, regular and varied homework tasks and end of topic tests.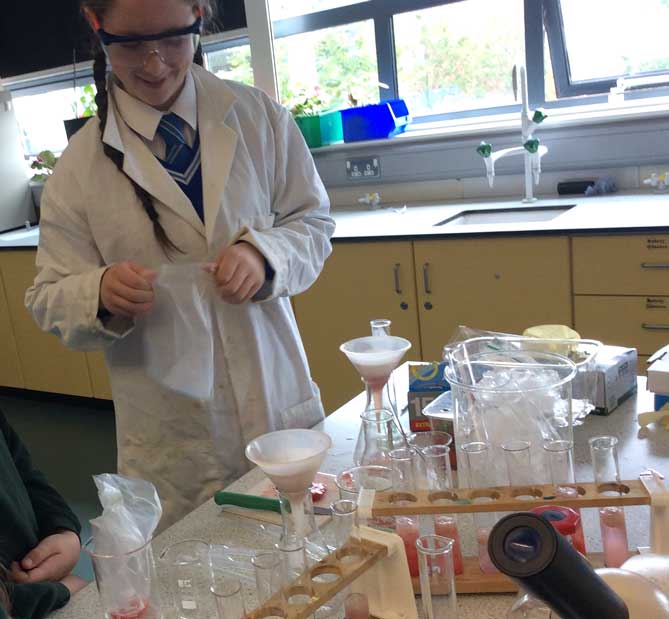 At the end of Year 10 students can choose to study:
1. A GCSE in any of the three separate sciences. These individual courses follow the CCEA specification.
or
2. The GCSE Double Award Science course, which also follows the CCEA specification.
It should be noted that if a student is achieving good marks in Science and wants to continue studying more than one science at AS and A2 level, we would strongly recommend that they take on all three subjects at GCSE. If the student is content to have a broader scientific education and wants to keep her options open at AS and A2 level, then Double Award is the advised option.
Click below for the GCSE specification:
Double Award Science
CCEA GCSE specification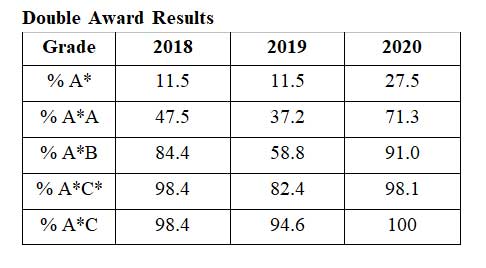 The final two years of study are split into AS in Year 13 and A2 in Year 14. Each student is taught for nine periods a week per subject. The courses encompass both theory and practical aspects.
Biology, Chemistry and Physics follow CCEA at A level. In Assumption Grammar, A-level Science are taught by teachers who are specialists in their subject. They all have experience in preparing, equipping and inspiring their students. The results over the years have been excellent and the majority of our students continue to study Science in further education in fields such as medicine, dentistry and pharmacy.
There is the opportunity for Year 8 and Year 9 students to meet after school on a Thursday afternoon, to participate in Science Club. With the help of the Science prefects the students carry out a variety of experiments and investigations, which expand on the knowledge they have gained in the classroom. When the opportunities arise, the students get to take part in various inter-school competitions and go on scientific outings. Over the last few years these activities have included; Year 8 students taking part in the Salters' Festival of Chemistry at Queen's University and being part of the judging panel for The Royal Society's Young People's Science Book Prize.